News & Updates
A Journey To the Mid-West Coast with Marc Robillard: Kwicksutaineuk-ah-kwa-mish
Dec
30
Undefined
By Marc Robillard
Since 2007 I have been the lucky person to work with the First Nations people of Gilford Island. Several clients have hired us to remove browsing protectors also known as cones.
Gilford has a very large population of deer. The plantations we put in after logging were soon ungulate calories. They especially like western red cedar. On Yeo Island you could sometimes see deer screefing and eating trees right behind you as you were planting. You often came back on your line and could not find the tree you just put in or it was just laying there out of its hole.
The foresters really like the western red cedar. It is a valuable species that yields a high demand in the marketplace. Red cedar is also very important to the First Nations who built their canoes with them and used the bark for clothing. A lot of First Nations still use it for carving their artwork and heating their homes. The forest practice code requires foresters to plant what they harvested to a certain extent, so planting species less palatable to deer was not an option.
The solution was to install protectors around those trees. They came in many shapes and sizes. The picture below shows the browsing protectors, one of the many types we remove. We come in with crews to remove and dispose of the cones or find a way to reuse them.

Over these 7 years of work we have gotten pretty good at it. Gilford has a tiny full time population of about 18 residents. When our cone removal project runs we get a lot of the band members that live in other areas to come back home to work. It is great to see the families reunite.
Brinkman, the Gilford band and the forestry company get together to make things work. The secret of our success is cooperation. The client gives us the work, Amy Speck and I set the crewmembers up with groceries, equipment and prompt payroll. Dory, Herb and I hire the crew. Dory used to coach the soccer team (the Breakers) and has been a great influence on the young people, guiding them to do their job with the same attitude as if they were in a soccer tournament. The local residents take family and friends into their homes. I usually get to stay with Jo-Ann and Paul or Lucy. These guys are great hosts and spectacular cooks. There is a community dinner once a week, Cathy Williams usually cooks for every one. The food is plentiful and delicious. Thomas will once in a while hunt down a seal and give it away to some one who likes traditional foods. Not too many of the younger folks are still interested in eating seal. I had the luck of eating some fried seal blubber with Beatrice Smith. What a delicacy! Fatty, rich, just plain delicious! But approach with caution it's like dessert, if you eat too much you really feel like you over did it.
The people working in the field are the ones who really make things happen. That team now runs like a well-oiled machine thanks to some of the people listed here: Jillian Smith, Thomas Williams, William Treibwasser, Brian Scow, Charlie Johnson, Sam Johnson, Denis Johnson, Teddy Scheck, Joel Johnson JR., Graham Scow, Cory Knowls, Dean Coon, Chris Larsen, Allen Souch SR. and JR., Jake Smith, Jonah Johnson.
These are just a few of the people in the field that make our project work. They are professional cone removers. They can all work together bounce off each other and almost never miss a cone. I would like to really thank you guys! We make a great team. Louis Yannick Jullien was also a big part of our success in the beginning. He was a great foreman and is still a good friend. We had his son Alan Jullien Corignan do his first bush work with us this year. The first 3 years on Gilford we had lots of work. The projects were larger, longer and employed more people. For 2014 we are happy that we have another season, but we would like more work for this great crew.
On days off we sometimes take the truck and go out to the guys' favourite hunting spot. Since I usually have the only trucks on that side of the island, it gets put to good use. Some of these guys are excellent shots. Joel Johnson JR got many deer with a little 22. Jillian Smith and Mary Glasser on sunny days can be seen on the beach looking for old glass trading beads. It is not rare to see Jill pick 8 beads in less than 2 hours. She must have the vision of a hawk. On the job she never misses a cone either. I have not been able to find one bead by myself in 7 years.
Brian Scow, Charlie Johnson, Sandy Johnson, Aba are also some of the very talented artists. If you get to visit the Gilford village go talk to these guys and get them to show you their art. Sandy made a dug out cedar canoe. Brian can carve 2 masks in one week. Aba specializes in paddles. These guys all do outstanding work.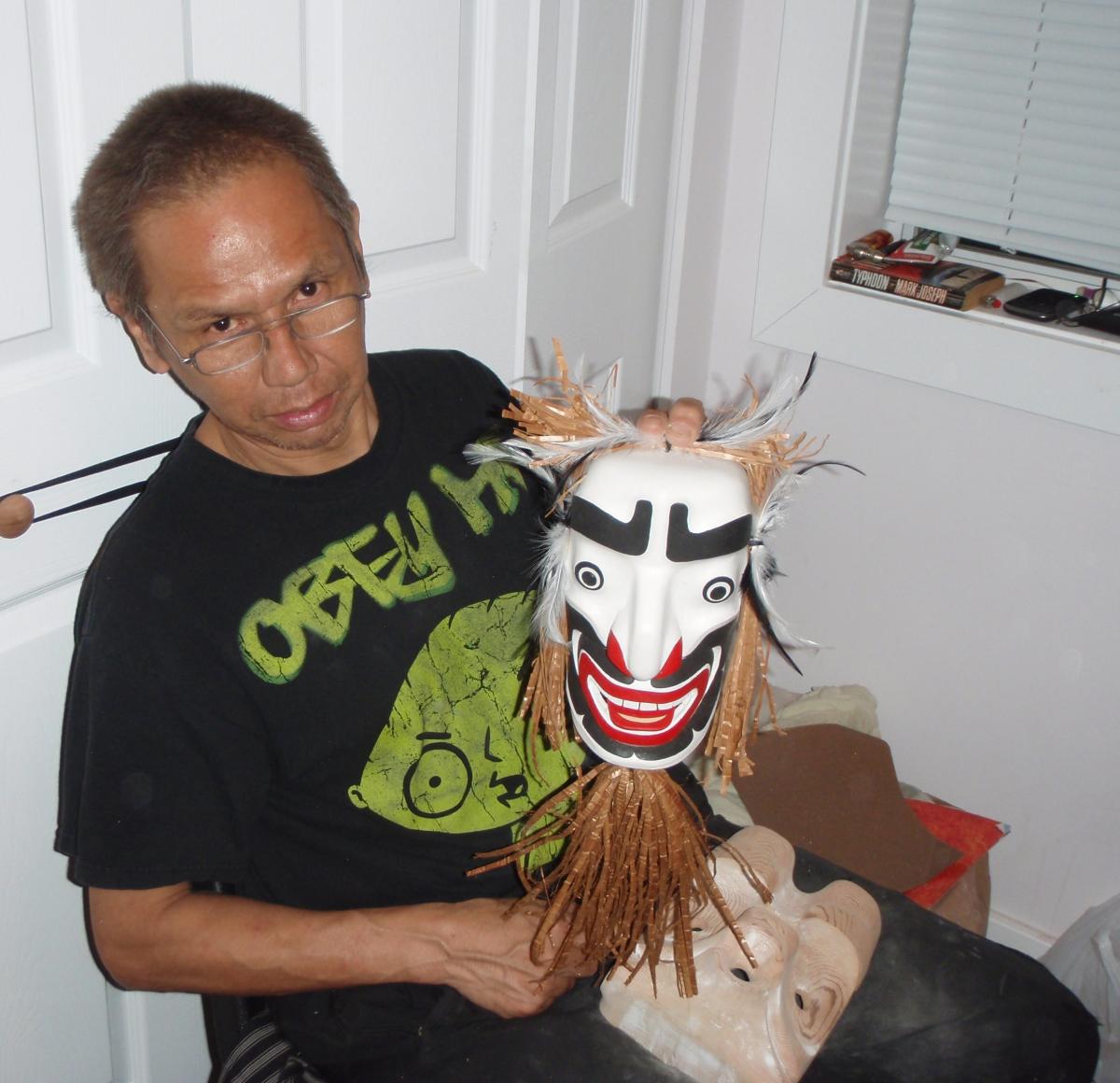 The photo above is Brian Scow with 2 of his masks. Brian is one of the people from the crew that just follows me where ever the work is. He was on the Fernie brushing crew this summer. Thomas came and gave it a try as well.