News & Updates
A Smile is Greater than the Sum of its Teeth: Planting to Pay the Dentist
Jan
11
Undefined
By Leah Sheitel
"Love is when you're missing some of your teeth, but you're not afraid to smile, because you know your friends will love you even though some of you is missing." -Emma K. Age 6.
I was once known for my teeth: perfectly straight and charming, naturally. I have been complimented on my "tooth to gum ratio" more than once, and they were the envy of all of my friends who had to suffer through years of orthodontist appointments and braces. Simply put – they were my best feature.
In April 2013, I shattered my mouth in a bike accident. I hit a car and took off the side mirror with my face before eating pavement. Besides being very painful physically, the emotional turmoil of losing my beloved teeth was a new hurdle to deal with. I fractured nearly all of them, and lost four and a half teeth, forcing me to be on a liquid diet for six weeks. The final dental bill was estimated to exceed $30,000. With all of these factors and my damaged confidence, my outlook on life was pretty bleak before starting the planting season in May.
I was nervous to plant with Brinkman, as it was a new camp and contract for me. I had fears that people wouldn't understand my current situation and how much the accident had altered my life. Yet I needed the money, so I went to Prince George to join Erik's camp. My experience was something I could never have expected.
The outpouring of love and support I received from the entire camp was incredible. Not only did they listen to my mouth woes, but they thought it was bad ass that I was able to plant on smoothies and soup for the first two weeks. They laughed when I referred to my mouth as "the boner shrinker" and on days off, when I'd spend four hours in the dentist chair in Prince George, they'd have beer waiting for me in camp. It's because of their love and support that I've been able to deal with the tooth devastation as well as I have. It made it easier to heal.
Erik and Dawn's crews had a "Pound for Leah's Smile" day, which was the coolest thing. Unbeknownst to me, Erik asked the crews to donate trees to me to help cover the intimidating dental bill. And boy, did they pound. The trees donated raised over $4,200. The amount of generosity for a girl they'd just met is something that I've never seen. They literally bought me two teeth, as the implants cost over $2000 each. That donation was hands down the nicest gesture I've ever received. The best was when I called to tell my Mom.
"Excuse me," she asked, "A bunch of people raised that much? Can you tell them all that I love them? I love them because they care about you."
That's exactly what the camp did – they cared about me. That amount of care is astonishing. To have that many cool and beautiful people on your side and cheering for you as you combat life with a broken mouth and heart is such a wonderful thing to feel. Front teeth are replaceable with time and money, but my experience and those people are not. They are some of the best people I know.
I want to thank everyone in the Brinkman family and especially Erik and Dawn's crews for their donations and the undying support. I don't know if I'll ever be able to thank everyone enough, and express just how much it meant to me. It made me want to smile again, and that is the best thing I could ask for.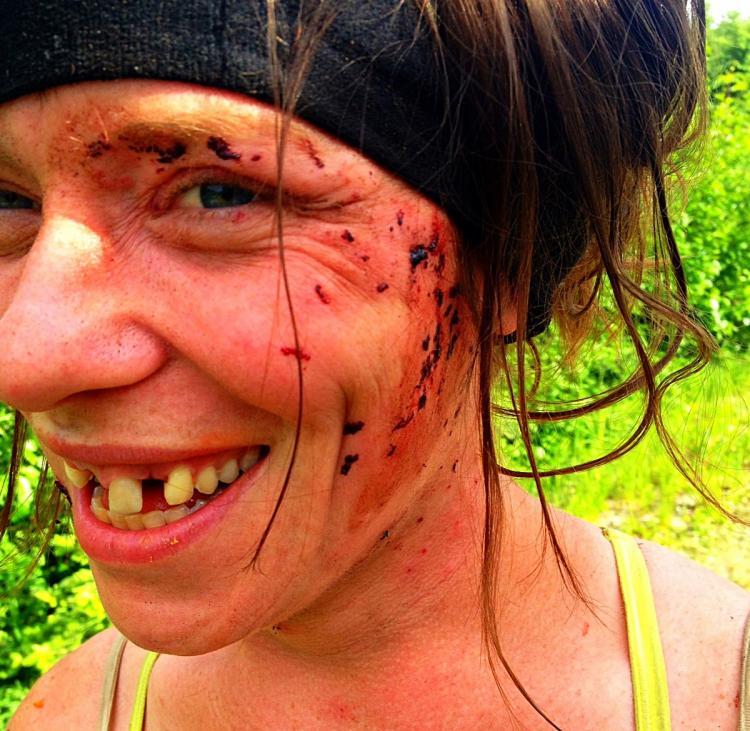 Erik Brinkman's Postscript:
Leah overcame the unimaginable with class, and was a constant reminder that nothing is insurmountable. She played an essential role for each person on the crew, and an even greater role for us as a group, a testament to the fact that the whole of a planting crew is greater than the sum of its planters. Leah's smile came to represent that whole for us, so it came as no surprise to see the amazing number of trees the crew planted for the wellbeing of that smile. I was also proud when Brinkman as a company donated $1250 to add to the $4260.25 in trees that the crew planted, creating a novelty cheque photo-op for the ages. The money doesn't come close to adding up to the total inspiration she provided for my crew this season, but it's a start.