News & Updates
Erik's Big Bad Baboon Crew Finds a Home: the Brinkman and Chingee Clans Reunite at Summit Lake after 40 Years
Jan
1
Undefined
By Erik Brinkman
So much is in the camp; this cannot be underestimated. It provides the planters with a hearth, a home, respite from the often tempestuous block. In The Planters Guide Book, (yet to be written) Rule #423 states, "Hotel shows should never last, while a good camp should never be passed." 
I have the honour of managing a brazen, organismic troop of tree planters that go by the handle the Big Bad Baboon Crew. Last season we started out our bountiful Prince George (PG) contract in a domestic PG campground flanked by senior Rent-A-RVs, newly-wed campers and shoes off bathroom policies called Blue Cedars PG. Perfectly timed with the one week expiry date of houseguest hospitality, we gobbled up the surrounding gravy and had to migrate North. 
When I scouted out our second camp site a few days before we had to move – a centrally located gravel pit we had identified via satellite during the snowed out months, single digits away from the bulk of our volume – it was under a lake. Regular fare.
I wasn't too keen to approach the campground owner from the previous season for reasons of charlatanry, but after knocking on every door of the Summit Lake local residences and gleaning every swamp, landing, quarry, wide shoulder and cougar den within 100km for a suitable camp spot it was looking like I didn't have a choice. It was time to move 42 planters and a camp, and we were homeless. So I made the 11th hour 11th minute call and started haggling. After multiple price raise confirm raises, term and condition juggling he said he would call back in 10 minutes to re-un-confirm.
While I was waiting, counting down from 10 while breathing deeply, I got another call. "Hi, I'm Daryl, the Mayor of Summit Lake, I got your message. I think I can help you."
Daryl introduced me to the owners of the Summit Lake Campground (now officially Loons Haven Resort, named by a Baboon), a local First Nations family-owned Northern paradise. It turns out the owners, the Chingee family, are descendants of tribal elder Harry Chingee, who my father encountered in his early forays into the BC wilderness in the 1960's.
The next day Daryl was digging our grey water pit with his backhoe, as we buckled down our camp, and settled in to our new digs. We had worked out a mutually beneficial deal with owner-caretakers Bernie and Justin Chingee and set up our caravan in the nicest tree planting camp I had ever seen: beach, pier, lake, and beer icing in a snow pile brought in with the bucket of the Mayor's hoe. 
This is a good BC contract, one of the best: direct award, straight forward specs, reflective prices, dependable client. And this is a good BC crew, one of the best…and last season had its choice of career-affirming work days, full of the ever toe-clenching, oscillating thrill of planting life, and our brazen troop now had a camp to roost in the lee of the cutblock. The deepening connections of hard work combined well with the incomparably pristine home-with-a-heart, enabled us to embrace a place that was finally up to the task of recharging those who are made for the highest rewards. The Baboons found a worthy home.
"The strength of a tree planting crew derives from the integrity of the home" says Confucius… kind of.
When I found out about the connection between the Brinkman and Chingee clans I asked Dirk to write up a brief recollection of his first pass through Summit Lake over forty years ago. Here's what he wrote:
Joyce had a great idea to visit Erik's camp for my birthday, so I celebrated my 68th birthday in the Summit Lake campground north of Prince George where Erik had his planting crew and where Dawn and her crew had been a few weeks before.
There were some wonderful people there running the campground, the son and grandson of Harry Chingee, who was one of the more level headed McLeod Lake TseK'hene people I had met in 1968, when two college friends and I first drove by Summit Lake. Summit Lake is just about where all the black spruce form spires because the heavy winter snows break off any long branches. When the dark spikes of the black spruce dominate, you know you have come to the remote north and I always remember the sensation of that shift in the landscape.
We first drove by in 1968 just 45 years (and a month) ago. I was a fresh naïve college graduate. At Summit Lake we decided to stop and fell a few trees in the forest alongside the road. We did this so that we could honestly say that we had fallen trees when we applied for a job as a faller – it may have seemed wiser to ask for training but we were too proud to admit we had no clue. 
A few weeks later we had begun, with plenty of jobs open because of the fatalities, and because gangrene set in before injured workers made it to the PG hospital, as it took three days by boat just to get to Findlay Forks where a car could race the rest of the 250 miles. The (then called) Workman's Compensation Board consequently shut the whole lake slashing operation down. All the contractors were to convene at Fort Graham, long since flooded.
It was in Fort Graham that I really appreciated Harry's even temperament. That moment at Fort Graham can have been like no other. A confluence of helicopters flying in to hire and fly off potential fire fighters for fires in the region. They offered to rent our saws so that is what we did — just as I had decided we should be contractors ourselves.
Bush planes were coming and going out with workers being flown out to go home. River boats were depositing shut-down contractor crews and contractors and crews were trying to talk someone into boating them back to Findlay Forks because it was cheaper than arguing with each other. Everyone watched their gear like hawks and accusations of power saws being stolen were routine. Avoiding fights was a part of survival. 
Throughout everything, Harry sat quietly amused, refusing all offers to ferry people off. Harry had the boating contract with Hydro and his 15 year old son ran the motor.  As he awaited his next instructions from the BC Hydro boss who had been taken from camp to camp by Harry to find everyone and bring them to Ft Graham to see they were all accounted for, his amusement and quiet observations of the crazy white men were a rare relief point of sanity. 
From that day on I looked forward to talking quietly with Harry whenever I had a chance.
So it was most wonderful to stop at Summit Lake and find that his nephew Bernie and grand-nephew Justin had become good friends with Erik and Dawn, whose crews had camped on their campground. (Bernie decided to go outside the treaty process and ask to have a Forest Service Campground on Summit Lake transferred to their name, in order to create a business). It was a beautiful spot on the lake perfect for swimming with a sandy beach. The planters could likely not have camped there if it was still under forest service management with all of its restrictions against 'industrial' activities of tree planting camps.
Now with good management keeping the peace between the planter parties and the traditional campers, and with all of the broken glass cleaned up, the grass seeded, docks repaired, trails kept up, etc, everything was copacetic. Best of all, genetics connected again a generation later.
Harry was only 50 in 1968 but I thought of him as an elder and he is still healthy. Now 94, Harry is dictating a book about his life to a Douglas College archivist. Certainly my youthful risk-taking self from those days would also have been surprised I was still healthy and back in Summit Lake at age 68.
Loon's Haven Resort on Summit Lake has cleared an area along the lake it is now designating the special "Brinkman Baboon Area" of their campground for our seasonal returns, so we can settle in and establish our hearth. I look eagerly forward to reuniting with the troop and continuing the legacy of the Brinkman and Chingee clans with Bernie and Justin at when we return to Summit Lake for the 2014 interior season.
The Baboons carpet the mess tent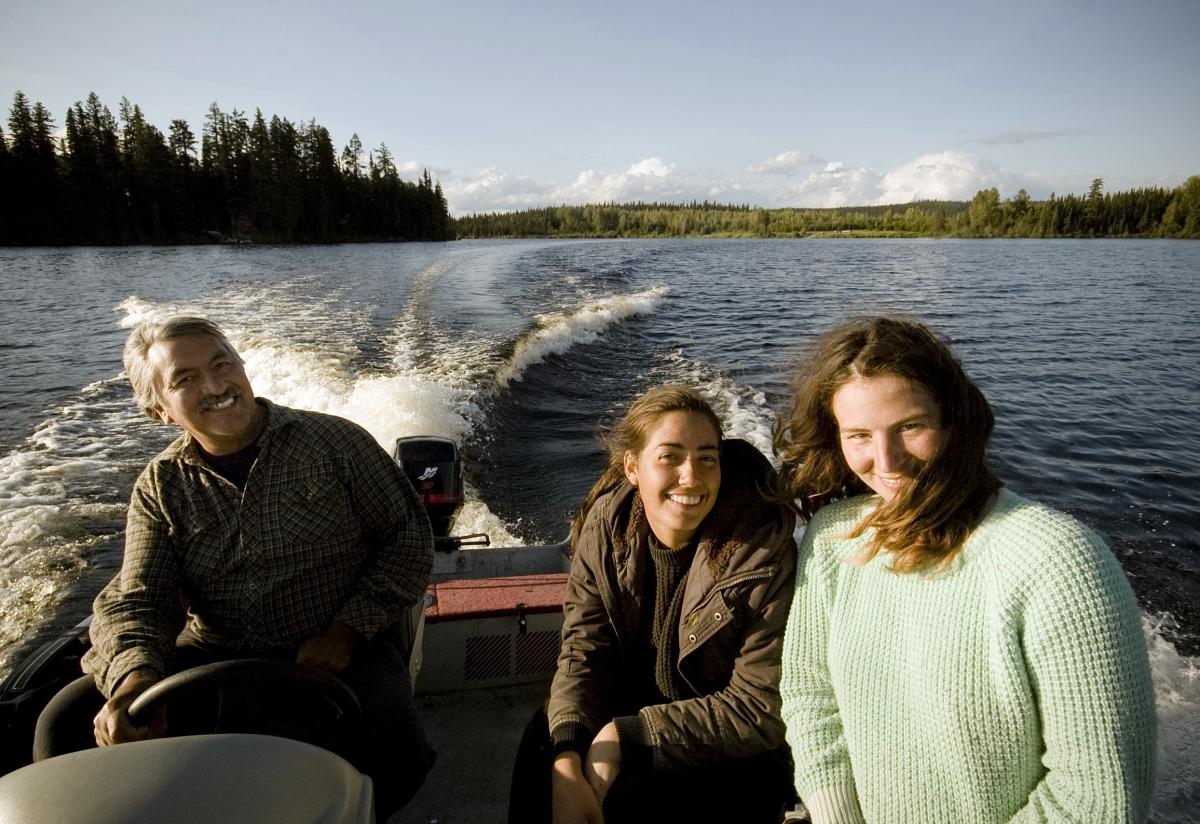 Robin and Camille ride with Boat Master Bernie Chingee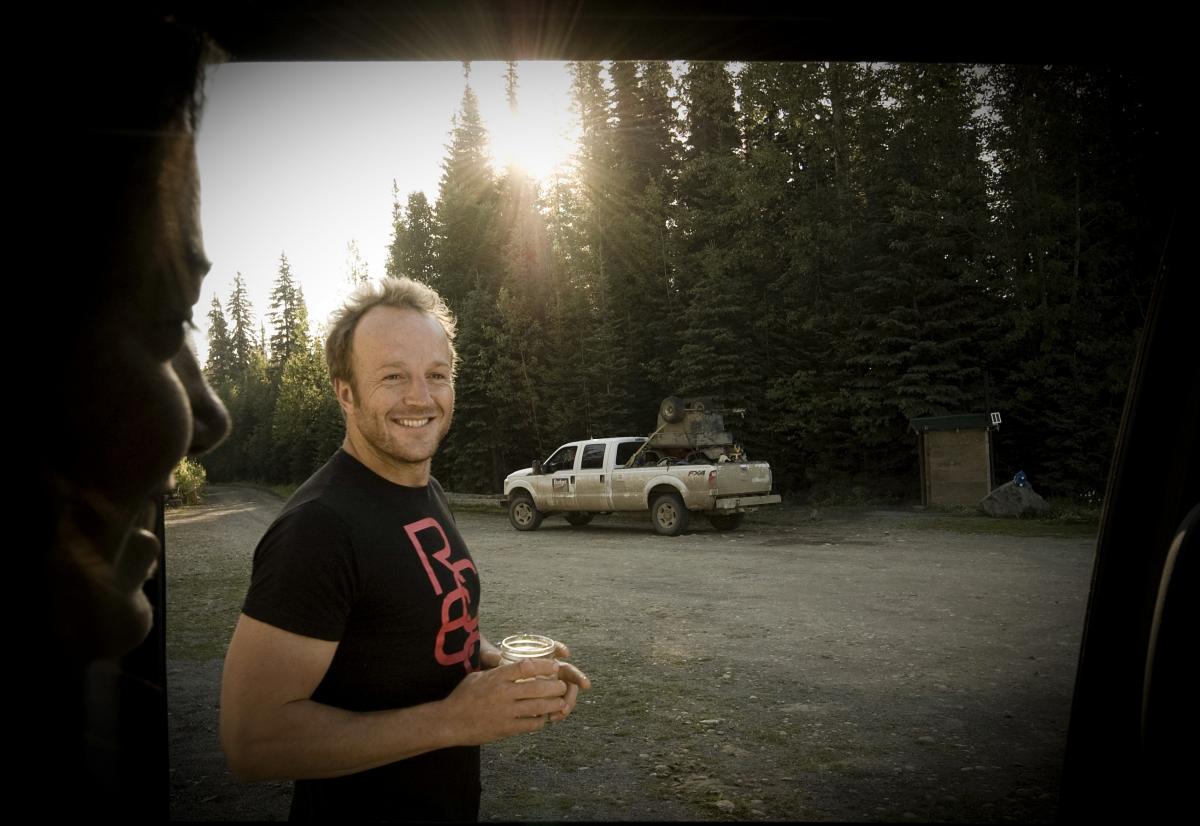 Erik Brinkman bringing the kiddies juice for their ride to school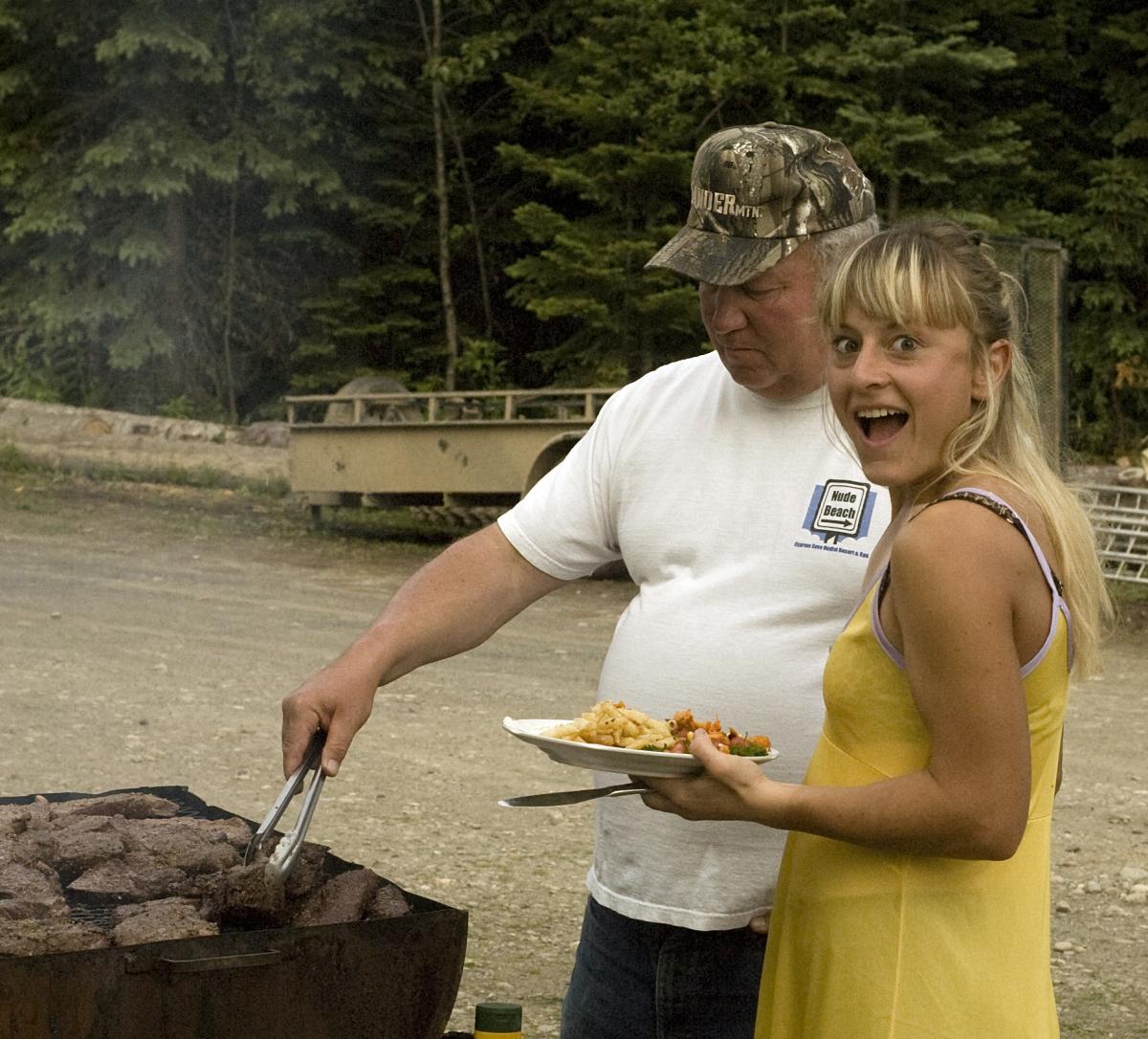 Rosanna served up dinner by the Meat Master Mayor Daryl Fitzsimmons 
Summit Lake BC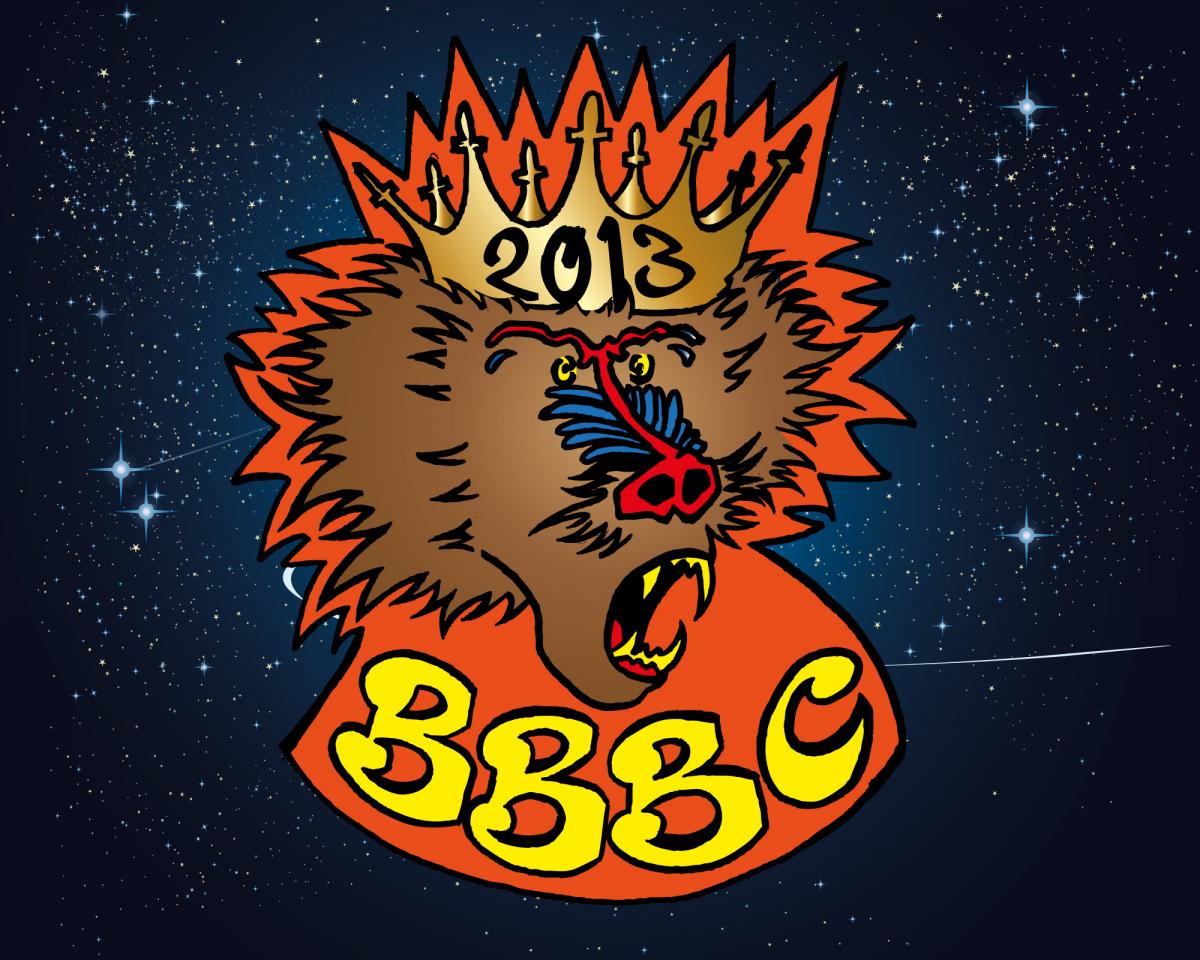 The Big Bad Baboon Crew banner