News & Updates
Eagle Training Camp 2013: Robin's Crew Winning in Manitoba
Jan
6
Undefined
By Robin McCullough
For those of you who haven't heard, our crew is one giant Eagle. I am the Eagle Eyes, because I see everything. Always watching, always thinking. Our tree deliverers are the Eagle's Talons, always ahead of the crew, always reaching forward. Our cooks are the Eagle's Heart and Stomach; no one goes anywhere without the strength we draw from our cooks. Our crewbosses are the Eagle's bones, guiding our daily flights, adapting to change, coordinating our hunt. And our planters, our warriors, the engine of this machine – they are our Eagle feathers. Small feathers when they first get off the bus, bigger feathers every bagup, every day.
Our prey is numbers. Total daily camp production – that's what we hunt. It always takes all day, it's always exhausting, and we need every feather and bone to succeed. No one can do it alone; we triumph where we do because the Eagle flies as one.
Eagle Training Camp 2013 began as one vast pile of mostly tiny feathers, dumped out onto the grassy bogs of Manitoba. Of the 12 field staff and two kitchen staff on the project, only Homie + Anna (my wingman and my all-star) had worked for me before this season – but that didn't matter. One shift and we knew we had our most badass, high-functioning Eagle yet.
This is one massive shout out to the staff and planters who made 2013 happen. Tony + Nij, our stolen Manitoba golden boys, working it out in the truck, at the reefer, on the quad. Bringing us what we needed. Pat McBride, AKA C-Nugs, who fought the shift from Neil's camp, but couldn't deny his rightful place in the Eagle. Our new crewbosses: darlings Laura, Evan, Laurel, Sable, Brooke and Char. Our perfect Quality Assessor, Nick Kenzo Teramura. And our imported cooks – Lucie from England (so fancy, so beloved) and Gwyn from Bella Coola (so under-clothed, so adored). And our feathers, our glorious feathers. It's no small feat to take a mostly-green camp and pound in 120,000 trees a day, but we did it. Scratch that – you did it. All I did was watch.
Postscript: Eagle Hatches in Mazinaw-Lanark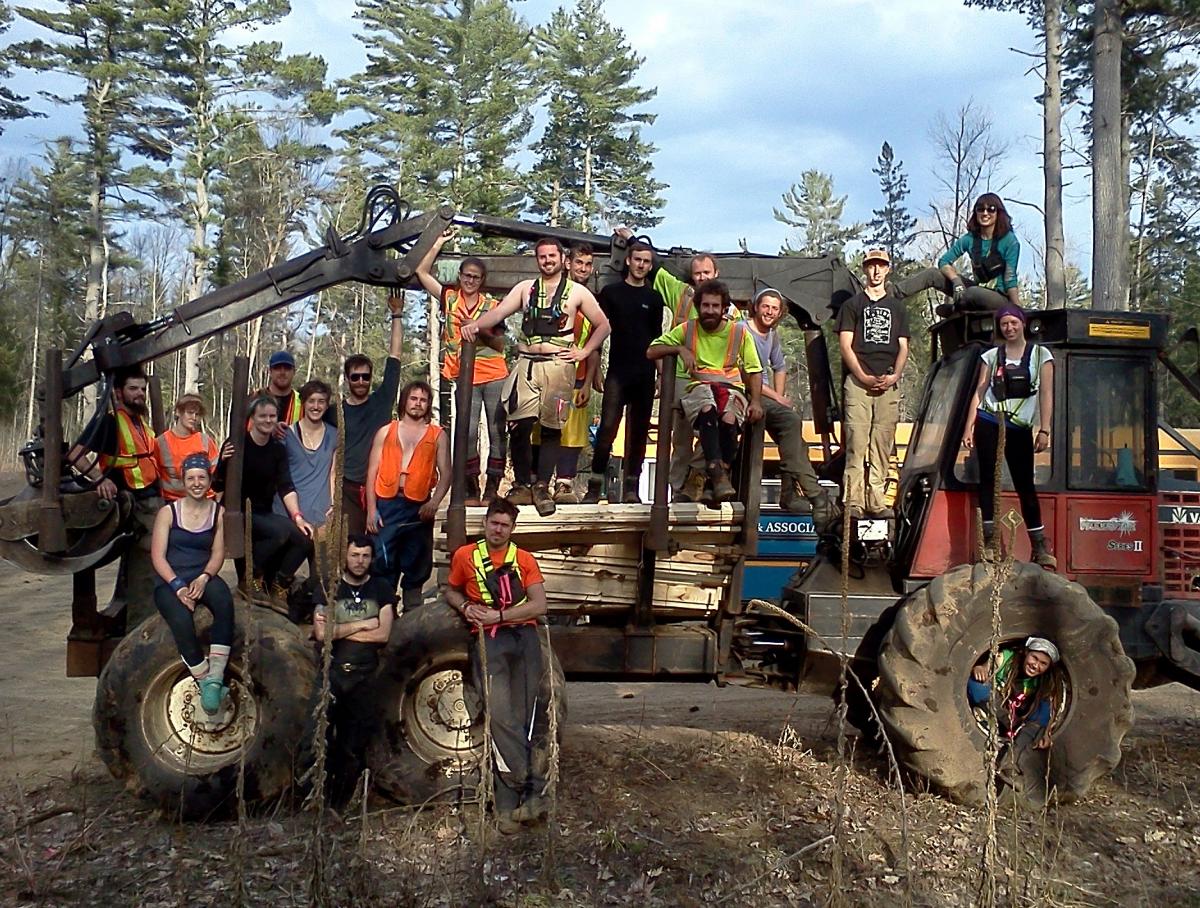 Tiny crew for the early work show, did they know they would grow to be eagles? Perched all over the forwarder we used for tree delivery. We got about 60 boxes on it-- once we had built sides between the ribs with planks. Nij and I were both on bikes and had a tough time climbing the hills into the blocks from staging with empty quads; steep, super muddy and mushy, being early spring after a heavy snowy winter. We couldn't have done it without the forwarder.
Dirk visited us on the last day of this show, as we were about an hour from Ottawa, and he had come over that weekend to visit Joyce. He rented a convertible and arrived for our contract closeout party in style; Marley and I made him fresh-pressed green juice instead of sausages
When later he saw the forwarder crew photo he had to exclaim, "BARCA in Panama just bought the identicle machine in 2013 for harvesting the maturing teak--after 20 years of planting in tropical Central America. These machines are not common, being a new simple low tech Swedish forwarder--'low tech and Swedish', an oxymoron really. But so far BARCA has not used it to haul seedlings. Good idea."