News & Updates
Burning Man in Swan Hills: Sometimes it Takes a Sacrifice
Dec
25
Undefined
By Pier Ouellette
The block that day was one of the best I had ever... BEEP.BEEP.BEEP
With my eyes still shut, I reach around to turn my alarm off. 5:55am. I unzip the door to my tent. A thick fog makes it impossible to see anything around me.
"Tabernacle!" (en.transl. "oh shoot!") Now, a bit of fog in the morning before going to work usually does not inspire me to yell out religious profanity. However, we were working on a heli contract which meant we would not be able to fly out to the blocks.
"Ostie!" (en.transl. "bummer!") Again, having a day off usually makes me relatively happy. Why all these bad words, I hear you ask? Well, this was the third consecutive day that we would not be flying out due to fog or snow. We had half a day's worth of trees left to finish off the contract. And Swan Hills offers limited day-off activities.
"We have a day off! But we are still in Swan Hills. But we have a day off! But we are still in Swan Hills..." was my thinking as I walked to the mess tent. As we waited to see if the fog would lift soon enough to fly out, everyone tried to keep busy.
Ronnie was doing his daily push-ups, while Dricker was pretending to win at poker. When it seemed like everyone was starting to lose hope, the legendary Richard "Bear Bait" Altman decided that we needed to sacrifice something to appeal to some god.
Half an hour later, everything was set. Richard said a few words before setting our sacrifice aflame. To this day I still believe some sort of black magic occurred for as soon as the fire started, Andy, our supervisor, broke out into this strange dance.* I had never seen anything like it. For the few minutes it took to completely burn our sacrifice, it felt like we were at Burning Man times a million.** Needless to say, the fog lifted soon after, we pounded out the last of the trees and the next morning camp was torn down and Swan Hills was far behind us.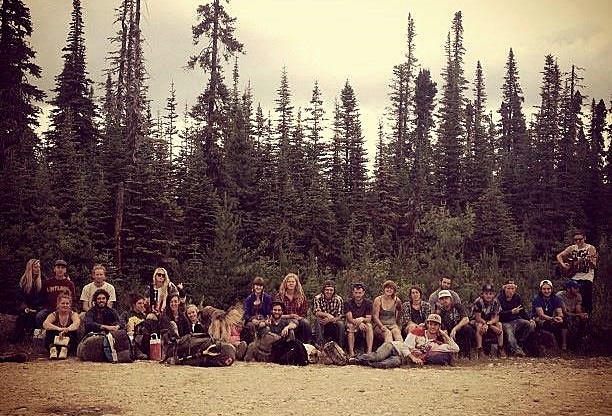 * Andy was not dancing.
** I have never been to Burning Man.